Winters in India are so different from those we see around the world. When in one part of the country like Jammu, you have the chilliest months of the year, cities like Mumbai experience little to no winters. With the new year coming, we are sure you are making your travel bucket list, so let's get you started with a bang! These five places will have you experience the snowfall, the calm and cozy winter travel mood, the spirit of the fuzzy season, and so much more.
Best Places For Winter Travel
1. Auli, Uttarakhand
In India where you rarely get to see white winters, the snowfall of Auli is an other-worldly sight. The state of Uttarakhand known for its mesmerizing beauty has some of the most visited tourist locations like Nainital, Dehradun, and Bhimtal. Yet, the snowclad hills of Auli remain one of the rather unexplored places and therefore make for the perfect experience when looking for a calm and serene winter getaway.
Must Visit Spots
Rudraprayag— A spiritual haven located near Auli.
Auli Artificial Lake— An experience filled with serenity.
Igloo shaped tents— Stay in one, for a once in a lifetime kind of experience.
Popular regional delicacies
Singhori— A dessert wrapped in Malu leaf served in the shape of a paan.
Bal Mithai— A true pahadi style local sweet.
Kachmauli— Every non-veg lovers delight, Kachmauli is a goat dish covered in oil and spice sauce.
2. Gulmarg, Jammu and Kashmir
If you love the hills for the warm and fuzzy cottage experience, Gulmarg is the place for you. A hill station in the beautiful state that is Jammu and Kashmir, Gulmarg is the perfect destination for a calm getaway or a romantic vacation when planning your honeymoon/an anniversary trip. The coming together of luscious green trees and the white snowfields of Gulmarg is a treat to the eyes and to the soul of every nature lover.
The soothing beauty, a warm beverage, and a bonfire in the midst of the hills/a fireplace inside your cottage make for the perfect recipe of holiday delight.
Must Visit Spots
Gulmarg Biosphere Reserve— Home to exotic wildlife species, located 48kms from Srinagar.
Strawberry Valley— An unexplored beauty, with strawberry patches and natural greenery far and wide.  
Popular Regional delicacies
Nader Monjje— Kashmiri French fries, if you may call them, made with the stem of lotus flower.
Gadde Monje— The Non-Vegetarian version of Nader Monjje, to please a fish lover's heart and palate.
Kashmiri Tujj— The melt in your mouth Kashmiri Kebabs, a must try treat these winters.
3. North Sikkim, Sikkim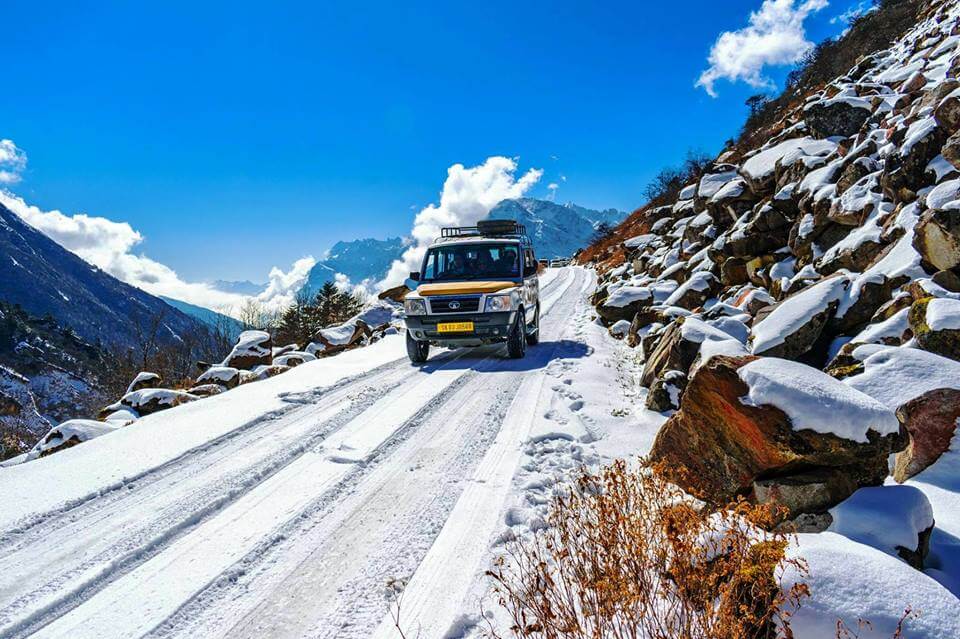 Standing seventh among the least populated districts in India, North Sikkim is a heavenly escape into white winter serenity. With a host of natural diversity, from the picturesque Yumthang Valley, and the magnanimous Bhim Nala Falls, to the spiritual haven that is Lachung Monastery, it has an insane number of cultural as well natural sites which are a must-visit.
Must Visit Spots
Along with the above-mentioned sites, here are a few more locations that make North Sikkim a traveler's delight.
Yumesamdong also known as Zero Point— Standing true to its name, this is point beyond which the China Border starts. Sitting beneath deep layers of snow, the valley of Yumesamdong is a white winter delight.
Shingba Rhododendron Sanctuary— The natural reserves of this sanctuary consist of forty species of rhododendron trees sprouting into a variety of colourful flowers—a true treat to the eyes.
Popular Regional delicacies
Gundruk and Sinki— Pickle like side dishes from the traditional cuisine of Sikkim, made of vegetable leaves and radish root.
Churpi-ningro curry also known as Niguru with Churpi— A cottage cheese curry made with Sikkim's local produce and indigenous ingredients.
4. Dhanaulti, Uttarakhand
Dhanaulti, being one of the rather unexplored places amidst the touristy state of Uttarakhand, has been called by many as Nature's paradise because of its unparalleled beauty and tranquillity. An experience offering you a bag full of opportunities from camping among the dark wood forests to skiing in the snow-capped hills.
Being a small town near the ever-crowded Mussoorie, Dhanaulti has a lot more solitude to offer you than most places in Uttarakhand. Therefore, it has little to no high-end cafes or restaurants. Yet every time you think of a relaxing winter getaway, the serene locations of this town will have you coming back for more.
Must Visit Spots
Deogarh Fort— If you love ancient murals and the feel of grand monuments and Havelis, then this 16th century fort will leave you in awe of its beauty.
The twin Parks: Amber and Dhara— Whether on a romantic getaway with your partner or on a family trip with kids, the small walks and hike trips to these eco parks are a must when you are in Dhanaulti.
Popular Regional Delicacies
Garhwali Pulao— The true taste of pahadi scrumptiousness, a combo of basmati rice loaded with vegetables.
Gur Gur Cha also known as Po Cha— The famous butter tea with yak cheese and salt, will cure all your winter woes away.
5. Triund Trek—McLeod Ganj—Dharamshala, Himachal Pradesh
Do mountains get you hyped up for trekking? Are hill stations, serenity, and new cultural expeditions on your checklist for these winter travels? Then Triund Trek, McLeod Ganj, is the perfect way in which you can check all of these options off your bucket list.
Trekking beneath the magnificent Dhauladhar range, you get to experience the Himalayan beauty up close and perfect. Located in Dharamshala, which is largely populated by Tibetans, this suburban location will give you an insight into what Tibetan culture feels like.
Must Visit Spots
Buddhist Monasteries like the Namgyal Monastery and the most valued Buddhist temple in McLeod Ganj called Tsuglagkhang also known as Dalai Lama's Temple.
Bhagsu Village— Bhagsunag Waterfall and Bhagsunag Temple—near McLeod Ganj.
The Tibet Museum— Learn about the historic tradition of the Tibetans and their culture, right in the city of Tibetan-exile.
Popular Regional delicacies
Tibetan noodle-soups—Thukpa; Thenthuck; Bok Choy Soup
Tibetan Noodles and Breads— Shaped like a floral delight.
The authentic Tibetan Dumplings/Momos
A freelance content writer and editor for blogs and E-Commerce brands. I am working on content creation and digital marketing opportunities with a multifaceted approach through a variety of different niches.